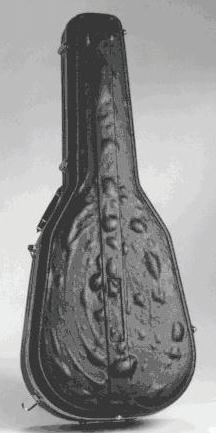 If you want your case to look like this thatís your business!!
If you donít thatís ours!!!
Patented reflective case reflects 90% of heat
from exposure to direct sunlight.
Protects from dust and rain.
Protects instruments from damage caused by
exposure to extreme changes in temperature and humidity.
Keeps your case looking brand new, improves resale value.
"The most significant and useful innovation in musical
accessories in many years....
They grace my pre-war D-45S and RB-4 flathead"
Mike Longworth, CF Martin Co.
"An Impressive product, a for moderately-priced, high quality,
and significant instruments. I put mine on Elvis's old D-18 and the Big Bopper's guitar." must
Kevin Foley, Red Baron Antiques